Group Building no.10
Chiang Rai Tobacco Office, composed by national working party of: Thailand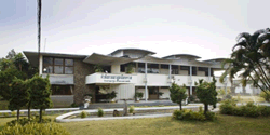 depicted item: Chiang Rai Tobacco Office and a meeting room's curved concrete ceilings
source: Parinya Chukaew and Architectural Heritage in Thailand II
date: 2014
1. Identity of building/ group of buildings/ urban scheme/ landscape/ garden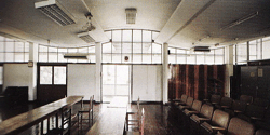 1.1 current name of building: Chiang Rai Tobacco Office
1.2 variant or former name: Chiang Rai Tobacco Office
1.3 number & name of street: 647 Thanalai Rd., Wiang
1.4 town: Mueang
1.5 province/state: Chiang Rai
1.6 zip code: 57000
1.7 country: Thailand
1.8 national grid reference:
1.9 classification/ typology: ADM
1.10 protection status & date: owned by Thailand Tobacco Monopoly, Ministry of Finance and received the Architectural Conservation Awards 2010 from the Association of Siamese Architects Under Royal Patronage
2. History of building
2.1 original brief/ purpose: ADM
2.2 date completion: 1964
2.3 architectural and other designers: unknown
2.4 others associated with building: -
2.5 significant alterations with dates: -
2.6 current uses: civic and public building
2.7 current condition: good
3. Description
3.1 general description: Chiang Rai Tobacco Office was established by the British-American Tobacco Limited (Thailand) (B.A.T.) in 1993. Currently, the Office has governed by Thailand Tobacco Monopoly, Ministry of Finance. It is a state enterprise contributing revenues to the government for country development.
3.2 construction: reinforced concrete structure and curved concrete roofs
3.3 context: Chiang Rai province is an important province of Northern region of Thailand. It is one of the biggest tobacco farming industries of Thailand. There are approximately ten thousands families of tobacco farmers in the Northern and the Northeastern part of Thailand.
4. Evaluation
4.1 technical: The building is a 2-storey reinforced concrete structure of Modern style with rectangular floor plan. The building is divided into left and right sides between the main staircase. The office is on both sides of the 1st floor but the right side is longer than another one and also enclosed by corridors. On the 2nd floor, there is an office space on the left side and a meeting room is on the other side.
4.2 social: Chiang Rai Tobacco Office is managed by Thailand Tobacco Monopoly, Ministry of Finance. It has provided an employment opportunity for local people in Chiang Rai province and other northern provinces of Thailand.
4.3 cultural & aesthetic: Curved concrete roofs are the most outstanding building's element. The roofs lay concave up and down curves which create the meeting room's unique curved ceilings. The staircase is another special element. Its landing creates cantilevered canopy without any posts for building's main entrance.
4.4 historical: The government, the Excise Department, had rented a land and premises before bought it. The department started the business on 1st September 1941 and then purchased new two plots of land on Thanalai Rd. (the current site) and Singhaklai Rd. from East Asiatic A. African Company. The Tobacco Office moved to the current site on 24th January 1942, constructed Chiang Rai Tobacco Office on 25th June 1964 and opened on 27th January 1966.
4.5 general assessment: Chiang Rai Tobacco Office presented the modern image of Chiang Rai province late 20th century. This building is a good example of building conservation and continuous use.
5. Documentation
5.1 principal references: Parinya Chukaew and Architectural Heritage in Thailand II
5.2 visual material attached: Parinya Chukaew and Architectural Heritage in Thailand II
5.3 rapporteur/ date: June 2014
6. Fiche report examination by ISC/R
name of examining ISC member:
date of examination:
approval:
working party/ref. n° :
NAi ref. n°:
comments:
OptionalRegion3