Group of building no.2
Pipit Banglamphu, composed by national working party of: Thailand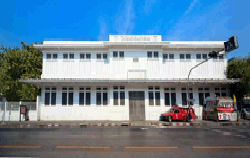 depicted item: Pipit Banglamphu's front elevation
source: Parinya Chukaew
date: 2014
1. Identity of building/ group of buildings/ urban scheme/ landscape/ garden
1.1 current name of building: Pipit Banglamphu
1.2 variant or former name: Wat Sangwet Printing School
1.3 number & name of street: 5 Phra Sumen Rd., Chanasongkram
1.4 town: Phra Nakhon
1.5 province/state: Bangkok
1.6 zip code: 10200
1.7 country: Thailand
1.8 national grid reference:
1.9 classification/ typology: REC
1.10 protection status & date: owned by the Treasury Department, Ministry of Finance, registered with the Department of Fine Arts as the national heritage in 2001 and received the Architectural Conservation Awards 2011 from the Association of Siamese Architects Under Royal Patronage
2. History of building
2.1 original brief/ purpose: EDC
2.2 date completion: 1932
2.3 architectural and other designers: The school's architect is unknown. The school's workshop was designed by Phra Sarotratthananimman.
2.4 others associated with building: The Wat Sangwet Printing School's workshop
2.5 significant alterations with dates: In 2013 the Treasury Department renovated the school, factory and landscape in order to develop as a museum and community center for the public uses.
2.6 current use: museum and community center
2.7 current condition: good
3. Description
3.1 general description: In 1925, the Ministry of Education was subsidized the budget to merchandise textbooks. This led to the construction of the printing school. Therefore, Wat Sangwet Printing School was built to serve such purposes in 1932.
3.2 construction: reinforced concrete architecture.
3.3 context: Wat Sangwet Printing School is situated in one of the historical areas of Bangkok, Banglamphu district.
4. Evaluation
4.1 technical: The school, Wat Sangwet Printing School, is two-storey reinforced concrete building of 'L' shaped layout and slab roof. Other elements such as windows, doors, stairs and floors are made from woods.
4.2 social: It was the first printing school in Thailand providing both theoretical and practical skills for students.
4.3 cultural & aesthetic: The building has simple decoration with concrete moulding for example a low-relief building's name on the parapet.
4.4 historical: Printing school was opened in 1932 until 1946 before changing its name and function to Khurusapha, Phra Sumen Printer in 1950 to print textbooks. In 1958 the printer was moved to the new location at Ladprao district and used as a warehouse. Until 1995 such building was abandoned and faced the demolition.
4.5 general assessment: The demolition of Khurusapha warehouse has raised public awareness among people in surrounded communities in Banglamphu area and strengthen the communities. They were against the demolition and asked for the protection until successfully requested the Department of Fine Arts protection as the national heritage in 2001.
5. Documentation
5.1 principal references: Parinya Chukaew and Waeovichian Abhichartvorapan.
5.2 visual material attached: Parinya Chukaew
5.3 rapporteur/ date: June 2014
6. Fiche report examination by ISC/R
name of examining ISC member:
date of examination:
approval:
working party/ref. n° :
NAi ref. n°:
comments:
7. Explanation of selection
Architect studied abroad