Group of building no.8
Dome Building, Thammasat University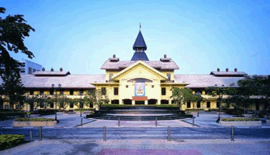 depicted item: Exterior and interior of Dome Building, Thammasat University
source: Parinya Chukaew and Architectural Heritage in Thailand II
date: 2014
1. Identity of building/ group of buildings/ urban scheme/ landscape/ garden
1.1 current name of building: Dome Building, Thammasat University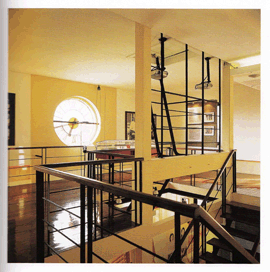 1.2 variant or former name: Dome Building, Thammasat University
1.3 number & name of street: 2 Phra Chan Rd., Phra Borom Maha Ratchawang
1.4 town: Phra Nakhon
1.5 province/state: Bangkok
1.6 zip code: 10200
1.7 country: Thailand
1.8 national grid reference:
1.9 classification/ typology: EDC
1.10 protection status & date: owned by Thammasat University and received the Architectural Conservation Awards 2005 from the Association of Siamese Architects Under Royal Patronage
2. History of building
2.1 original brief/ purpose: EDC
2.2 date completion: 1935-1936
2.3 architectural and other designers: Mui (Jitrsean) Apaiwong
2.4 others associated with building: -
2.5 significant alterations with dates: During 1960-1972 its 4th building was demolished in order to construct the AT room and the 1st building was demolished in 1977 to build a multi-purpose building. In addition, the construction of Dr. Pridi Banomyong Memorial Hall was started in 1985 by extending a portico to the rear of the building.
2.6 current uses: Thammasat University's hall of fame
2.7 current condition: good
3. Description
3.1 general description: The history of Dome Building began with the founding of Thammasat university, previously known as University of Moral and political Sciences, near Phan Phiphop Lila Bridge in 1934 by Dr. Pridi Banomyong, the Interior Minister. Dr. Pridi bought a land beside Chao Phraya River, nearby Phra Chan and Phra Athit Piers, which belonged to the 4th Infantry Troop, Ministry of Defence, to be served as the university's permanent site. Dome Building was the first building of Thammasat University and was used as the administration hall.
3.2 construction: reinforced concrete structure and brick masonry painted walls
3.3 context: The land was the Ministry of Defence's property. This means that the site has a strong strategic importance because it is accessible from several types of transportation such as cars, buses and boats.
4. Evaluation
4.1 technical: The four existing buildings on site were connected into one big building and extended the middle part with 16 meter octagonal pointed roof which became the name of the building as called 'Dome Building'. It is a long rectangular plan with three-storey at the center and two-storey wings on its left and right sides. The building itself is reinforced concrete structure and brick masonry painted walls except the roof was originally finished with high quality teakwood tiles but it has been changed to brown-coloured tiles. Both wings are coverd by gable roofs.
4.2 social: Dome Building has become a symbol of Thammasat University since its construction. It related to political movement both international and domestic levels which have conveyed the meaning of democratic process in Thai society.
4.3 cultural & aesthetic: This building demonstrates the mixture of Modern and Gothic Revival styles in Thai context.
4.4 historical: Dr. Pridi Banomyong was a founder of Thammasat University and also an important Free Thai Movement or Seri Thai agent. The Free Thai Movement was a movement of Thai resistance movement against Japan during the World War II. Therefore, Dr. Pridi selected the Dome Building to use as the Free Thai Movement's office during the war.
4.5 general assessment: Currently, the Dome Building has been conserved and hall of fame on the 3rd floor. The case of Dome Building has shown significant conservation of building values in terms of social and historic values.
5. Documentation
5.1 principal references: Parinya Chukaew and Architectural Heritage in Thailand II
5.2 visual material attached: Parinya Chukaew and Architectural Heritage in Thailand II
5.3 rapporteur/ date: June 2014
6. Fiche report examination by ISC/R
name of examining ISC member:
date of examination:
approval:
working party/ref. n° :
NAi ref. n°:
comments: