Group Building no.16
Sala Chaloem Krung
depicted item:
source: Parinya Chukaew
date: 2014
1. Identity of building/ group of buildings/ urban scheme/ landscape/ garden
1.1 current name of building: Sala Chaloem Krung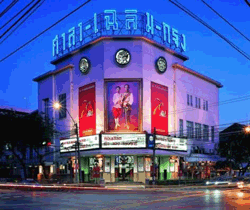 1.2 variant or former name: Sala Chaloem Krung
1.3 number & name of street: 66 Charoen Krung Rd., Wang Buraphaphirom
1.4 town: Phra Nakhon
1.5 province/state: Bangkok
1.6 zip code: 10200
1.7 country: Thailand
1.8 national grid reference:
1.9 classification/ typology: REC
1.10 protection status & date: owned by Chaloem Krung Manitas Co., Ltd. and received the Architectural Conservation Awards 1994 from the Association of Siamese Architects Under Royal Patronage
2. History of building
2.1 original brief/ purpose: REC
2.2 date completion: 1930-1933
2.3 architectural and other designers: Mom Chao Samaichaloem Kridakon (architect) and Nart Bhodiprasat (structural engineer)
2.4 others associated with building: -
2.5 significant alterations with dates: routine maintenance
2.6 current use: cinema
2.7 current condition: good
3. Description
3.1 general description: Sala Chaloem Krung was built as part of a commemoration to Bangkok 150th Anniversary Celebration in 1936 in conjunction with the Memorial Bridge (Phra Phuttha Yodfa Bridge) and the King Rama I monument. The cinema's name means City Celebration Pavillion.
3.2 construction: reinforced concrete structure and masonry painted walls
3.3 context: Sala Chaloem Krung is situated in the old business area of bangkok.
4. Evaluation
4.1 technical: Sala Chaloem Krung has two parts, foyer and cinema. There are four storeys and three storeys at the foyer and cinema, respectively. Building structure is reinforced concrete and masonry walls with paint.
4.2 social: It was the first cinema which showed sound-on-film movie in Thailand.
4.3 cultural & aesthetic: The significant element of the building is at the entrance. It is divided into three accesses and the central access is bigger than the other two. Above the three accesses are decorated by the perforated metal in round frames of simplified Thai traditional cinema icons. Inside the cinema, the ceiling is 15 meters high and decorates with colour stripes influenced by the style of Art Deco.
4.4 historical: Mom Chao Samaichaloem Kridakon, the architect, was commissioned by the King Rama VII in 1925. The construction was started in 1930 and had the grand opening on 2nd July 1933.
4.5 general assessment: Sala Chaloem Krung was high technology cinema with automatic screen curtain and firstly used the air conditioning with chilled water system when it was built.
5. Documentation
5.1 principal references: Parinya Chukaew and Waeovichian Abhichartvorapan
5.2 visual material attached: Parinya Chukaew
5.3 rapporteur/ date: June 2014
6. Fiche report examination by ISC/R
name of examining ISC member:
date of examination:
approval:
working party/ref. n° :
NAi ref. n°:
comments:
Explanation of selection
Architect studied abroad