Group Building no.13
Warichwes Palace
depicted item: From the yard of Warichwes Palace
source: Parinya Chukaew
date: 2014
1. Identity of building/ group of buildings/ urban scheme/ landscape/ garden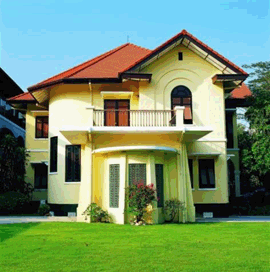 1.1 current name of building: Warichwes Palace
1.2 variant or former name: Warichwes Palace
1.3 number & name of street: 305 Soi Sukhothai 6, Sukhothai Rd.
1.4 town: Dusit
1.5 province/state: Bangkok
1.6 zip code: 10300
1.7 country: Thailand
1.8 national grid reference:
1.9 classification/ typology: COM
1.10 protection status & date: owned by Crown Property Bureau Foundation, rented by Matching Studio Public Company Limited and received the Architectural Conservation Awards 2008 from the Association of Siamese Architects Under Royal Patronage
2. History of building
2.1 original brief/ purpose: RES
2.2 date completion: 1933
2.3 architectural and other designers: Phra Sarotratthananimman
2.4 others associated with building: -
2.5 significant alterations with dates: -
2.6 current use: Matching Studio Public Company Limited's office
2.7 current condition: good
3. Description
3.1 general description: Warichwes Palace belonged to Her Royal Highness Princess Wapeebussabahkorn (25/7/1891- 15/12/1982), the 84th daughter of King Chulalongkorn (King Rama V) and Chao Chom Marada Prom. The palace was constructed in 1933 by Phra Sarotratthananimman, an architect and engineer. The palace was named after Her Royal Highness Princess. Warichwes means a residence owned by a person who was born from water water and lotus. The word 'a person' refers to Her Royal Highness Princess Wapeebussabahkorn because Wapee means water or swamp.
3.2 construction: two storey house with reinforced concrete structure
3.3 context: former royal families residential area
4. Evaluation
4.1 technical: The two-storey palace, Warichwes Palace, is a blend of Art Nouveau and Colonial styles. The entrance is placed at the side of the palace with steps and arches. The roof is in the hip and gable forms.
4.2 social: The palace exemplifies the change in social preference in terms of architectural style.
4.3 cultural & aesthetic: The architect concerned about the simplicity and economical because it was a period of Siamese economic depression. Therefore, the choices of materials focused on durability for example using reinforced concrete instead of wood and minimising high decorative art into geometrical patterns.
4.4 historical: Warichwes Palace was constructed just one year after the radical changes in Siam political system when the constitutional monarchy was established in 1932. Such changes occurred not only politic but also architecture. Therefore, this palace might reflect the changes in social attitude in two aspects, namely, architectural characteristics and architect. Previously in the late reign of King Rama VII, the western architecture dominated the style in Siam which was designed by royal members, noblemen and foreign architects. While at the beginning of King Rama VIII reign, the architecture was minimized the decoration and detailed and also designed by normal social class architects.
4.5 general assessment: Warichwes Palace is one of the good cases of adaptive reuse. In this case, it maintains the use of building with the new function.
5. Documentation
5.1 principal references: Architectural Heritage in Thailand II
5.2 visual material attached: Parinya Chukaew
5.3 rapporteur/ date: June 2014
6. Fiche report examination by ISC/R
name of examining ISC member:
date of examination:
approval:
working party/ref. n° :
NAi ref. n°:
comments:
Explanation of selection
Architect studied abroad