Group Building no.23
new Suan Amporn Pavilion
depicted item: new Suan Amporn Pavilion
source: the book of 'Keeping Up: Modern Thai Architecture 1967-1987 Exhibition' on 12 June-14 September 2008
date: 2008
1. Identity of building/ group of buildings/ urban scheme/ landscape/ garden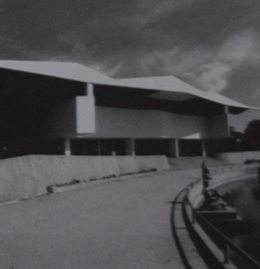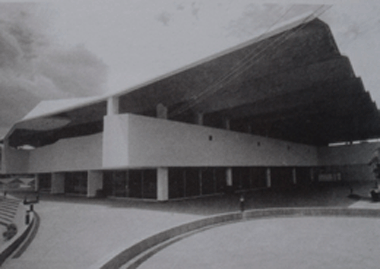 1.1 current name of building: new Suan Amporn Pavilion
1.2 variant or former name: new Suan Amporn Pavilion
1.3 number & name of street: Ratchadamnoen Nok Rd.
1.4 town: Dusit
1.5 province/state: Bangkok
1.6 zip code: 10300
1.7 country: Thailand
1.8 national grid reference:
1.9 classification/ typology: REC
1.10 protection status & date: owned by Bureau of the Royal Household
2. History of building
2.1 original brief/ purpose: REC
2.2 date completion: 1972
2.3 architectural and other designers: Krisda Arunvongse Na Ayudhya
2.4 others associated with building: previous Suan Amporn Pavilion, Dance Floor Pavilion and new Dance Floor Pavilion
2.5 significant alterations with dates: -
2.6 current use: multi-purpose building such as event hall and sport venue
2.7 current condition: good
3. Description
3.1 general description: Economic growth and rising population in the 1970s led to ever larger product fairs and festivals in the city. This soon culminated in a demand for a multi-purpose building suitable for a variety of city events. As a result, new Suan Amporn Pavilion was built in 1972.
3.2 construction: reinforced concrete structure with 15 meter column-free span and folded plate roof
3.3 context: Significantly, new Suan Amporn Pavilion was built on royal grounds, but functioned as both a public-use building, and a royal venue.
4. Evaluation
4.1 technical: Using the latest concrete engineering techniques, Krisda Arunvongse Na Ayudhya incorporated a folded plate roof, creating a large stretch of space adaptable for various uses.
4.2 social: In contrast to the surrounding backdrop of Amporn and Ananda Samakhom Throne Halls, the modern structure was a symbol of the evolving relationship between monarchy and the people.
4.3 cultural & aesthetic: Visitors to the 1972 Red Cross Fair at the New Suan Amporn pavilion marveled at the huge 15 meter column-free span.
4.4 historical: The new Suan Amporn Pavilion was held the 1972 Red Cross Fair which was one of the national important events.
4.5 general assessment: The brief for the pavilion included serving as an occasional badminton court for the King and as a reception hall for the Queen's state visitors (the current King and Queen).
5. Documentation
5.1 principal references: the book of 'Keeping Up: Modern Thai Architecture 1967-1987 Exhibition' on 12 June-14 September 2008
5.2 visual material attached: the book of 'Keeping Up: Modern Thai Architecture 1967-1987 Exhibition' on 12 June-14 September 2008
5.3 rapporteur/ date: June 2014
6. Fiche report examination by ISC/R
name of examining ISC member:
date of examination:
approval:
working party/ref. n° :
NAi ref. n°:
comments: