Group of building no.7
Supachalasai Stadium, the National Stadium of Thailand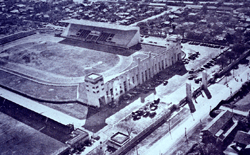 depicted item: Overview of Supachalasai Stadium in the past and the present
source: Associate Professor Chatri Prakitnonthakan and Parinya Chukaew
date: 2014
1. Identity of building/ group of buildings/ urban scheme/ landscape/ garden
1.1 current name of building: Supachalasai Stadium, the National Stadium of Thailand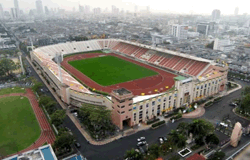 1.2 variant or former name: Supachalasai Stadium, the National Stadium of Thailand
1.3 number & name of street: 154 Rama 1 Rd., Wang Mai
1.4 town: Pathumwan
1.5 province/state: Bangkok
1.6 zip code: 10330
1.7 country: Thailand
1.8 national grid reference:
1.9 classification/ typology: REC protection status & date: managed by the Department of Physical Education, Ministry of Tourism and Sports
2. History of building
2.1 original brief/ purpose: sports center
2.2 date commission/ completion: 1937-1938
2.3 architectural and other designers: Mui (Jitrsean) Apaiwong
2.4 others associated with building: Thephasadin Stadium, Jindarat Stadium, Wisutamol Pool, Nimidbud Gymnasium and Jhanthana-Yingyong Gymnasium
2.5 significant alterations with dates: 2008
2.6 current use: sports center
2.7 current condition: good
3. Description
3.1 general description: The Department of Physical Education was established in 1933 aiming to encourage people to concern about health. Therefore, Supachalasai Stadium was constructed in 1937 and fully completed in 1938 at international standard level. The building takes the majority of the site. It is multi purposes stadium including a football field and running tracks. The repair works of building and landscape were taken in 2008 in order to celebrate the 70th anniversary of the stadium. Such works have improved the general environment of the site, however, some works have ignored the original architectural characteristics of Art Deco for example installing the Windsor stylistic feature at the podium inside the stadium.
3.2 construction: reinforced concrete building
3.3 context: educational and commercial areas of Bangkok
4. Evaluation
4.1 technical: Supachalasai Stadium is a reinforced concreted building with 20 storied stands in the west and north wings. The west wing roof is supported by cantilevered concrete structure.
4.2 social: The first high standard stadium of Thailand and the King Rama VIII was invited to be a chair in the opening of public running competition on May 4, 1941.
4.3 cultural & aesthetic: In the middle of west wing stand is provided for the royal family members or other representatives as chair of the events. The building facades are decorated by Art Deco style and sculpture such as vertical streamline with thin concrete shading. The symbols of the Department of Physical Education are shown at the top of the pillars on the north fašade.
4.4 historical: Supachalasai Stadium was held three time of the Asian Games (the fifth, sixth and eighth) in 1966, 1970 and 1978, respectively. It has been nationally and internationally held other activities such as sports and musical competition.
4.5 general assessment: This is one of the most significant works of Mui Apaiwong who had great reputation for designing governmental buildings.
5. Documentation
5.1 principal references: Associate Professor Chatri Prakitnonthakan and Waeovichian Abhichartvorapan
5.2 visual material attached: Associate Professor Chatri Prakitnonthakan and Parinya Chukaew
5.3 rapporteur/ date: June 2014
6. Fiche report examination by ISC/R
name of examining ISC member:
date of examination:
approval:
working party/ref. n░ :
NAi ref. n░:
comments:
Explanation for selection:
Supachalasai Stadium, the National Stadium of Thailand has successfully maintained the original function as the sports center since it was built. This may because the stadium is located in one of the most important business areas where there are many main transportation such as public bus and Bangkok Mass Transit System (BTS)'s train station (The National Stadium Station). Many important activities have been held such as hosting three times of the Asian Games. In term of architectural characteristics, the stadium is an icon of massive concrete structure in the early age of modern architecture in Thailand. The architect, Mui Apaiwong, played a significant role in adapting Art Deco stylistic elements into modern architecture in Thailand.