Group Building no.20
Building No.1, Rajamangala University of Technology Tawan-ok, Uthenthawai Campus
depicted item: elevation of Building No.1 from football field
source: Narathip Thubthun
date: 2014
1. Identity of building/ group of buildings/ urban scheme/ landscape/ garden
current name of building: Building No.1, Rajamangala University of Technology Tawan-ok, Uthenthawai Campus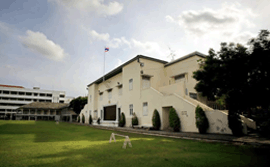 variant or former name: Administration office, Uthenthawai School of Construction
number & name of street: 225 Phaya Thai Rd., Pathumwan
town: Pathumwan
province/state: Bangkok
zip code: 10330
country: Thailand
national grid reference:
classification/ typology: EDC
protection status & date: owned by Rajamangala University of Technology Tawan-ok, Uthenthawai Campus and registered by the Department of Fine Arts
2. History of building
2.1 original brief/ purpose: EDC
2.2 date completion: 1941
2.3 architectural and other designers: unknown
2.4 others associated with building:
2.5 significant alterations with dates: Due to the building damage after the Greater East Asia War, the repair works on building were done in 1947 and managed by Jarun Somchana, a teacher. The second repair was in 1965 on the building's roof.
2.6 current uses: Uthenthawai Parents and Teachers Association
2.7 current condition: good
3. Description
3.1 general description: Uthenthawai School of Construction was founded in 1933 by Chao Praya Dhammasak Montree, the Minister of Education and Luang Wisarn Silpakam, the first headmaster. This school was changed to college and university in 1974 and 2005, respectively.
3.2 construction: reinforced concrete structure and low hipped roof
3.3 context: The college is situated in a long historical site of Thai educational development next to Chulalongkorn University.
4. Evaluation
4.1 technical: Building No.1 is the university first reinforced concrete building. There are two storeys of rectangular plan and indoor and outdoor stairs.
4.2 social: Building No.1 has been a center of this university because it was built by the school staffs and students. In addition, the headmasters' bone ashes have been kept in the meeting room on 2nd floor of this building.
4.3 cultural & aesthetic: It has a symmetrical design of the elevations. The interesting elevation facing the football field has two outdoor stairs and a raised floor at the center for headmasters to give speeches.
4.4 historical: In 1940, the first building was constructed which was the Administration office and completed in 1941. This building and others were occupied by Japanese soldiers during the Greater East Asia War after opening until 1946. Although many buildings seriously damaged after the war, the Administration office was one of surviving buildings. The Administration office was reopened and changed its name to Building No.1 about 1990-1991 after moving the office to the new building (Building No.7). Since then Building No.1 has been used as Uthenthawai Parents and Teachers Association.
4.5 general assessment: Building No.1 (the Administration office, previous name) has hold the historic value of School of Construction establishment because it was the first reinforced concrete architecture built heartily by school staffs. This has demonstrated the effective curriculum of this school. Furthermore, this building has united its members because it has been a place of collecting the successive headmasters' bone ashes including Luang Wisarn Silpakam's bone ash who was the first headmaster.
5. Documentation
5.1 principal references: Narathip Thubthun and Waeovichian Abhichartvorapan 5.2 visual material attached: Narathip Thubthun
5.3 rapporteur/ date: June 2014
6. Fiche report examination by ISC/R
name of examining ISC member:
date of examination:
approval:
working party/ref. n° :
NAi ref. n°:
comments: