Group of building no.9
Building of Arts and Culture Chulalongkorn University,composed by national working party of: Thailand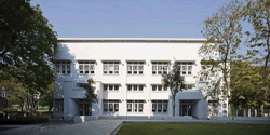 depicted item: exterior and interior of Building of Arts and Culture, Chulalongkorn University
source: Parinya Chukaew and Architectural Heritage in Thailand II
date: 2014
1. Identity of building/ group of buildings/ urban scheme/ landscape/ garden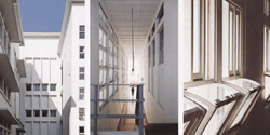 current name of building: Building of Arts and Culture, Chulalongkorn University
variant or former name: Chemistry Building 1, Chulalongkorn University
number & name of street: Phaya Thai Rd., Wang Mai
town: Pathumwan
province/state: Bangkok
zip code: 10330
country: Thailand
national grid reference:
classification/ typology: REC
protection status & date: owned by Chulalongkorn University and received the Architectural Conservation Awards 2007 from the Association of Siamese Architects Under Royal Patronage
2. History of building
2.1 original brief/ purpose: EDC
2.2 date completion: 1937
2.3 architectural and other designers: Phra Saroj Rattananimman (Saroj Sukkayang)
2.4 others associated with building: the Faculty of Art & Sciences' buildings
2.5 significant alterations with dates: In 2011, the stage performance space was added inside the original U-shaped building layout.
2.6 current uses: art gallery and cultural center
2.7 current condition: good
3. Description
3.1 general description: Chulalongkorn University is the first national university, founded on 26th March 1916 by King Rama VI. The university developed from King Rama V's the Civil Service Training School. Engineering, Public Administration, Medicine, and Arts & Sciences were the first four faculties of the university. Many buildings were consequently built including Chemistry Building 1 or presently known as Building of Arts and Culture.
3.2 construction: reinforced concrete structure and concrete slab roof
3.3 context: The building is situated in a long historical context where it was Thailand's first national university and founded by King Rama VI.
4. Evaluation
4.1 technical: Building of Arts and Culture, 2-storey reinforced concrete structure, originally was U-shaped plan. It has symmetrical plan and elevations. The south elevation has a central entrance while the east one has two entrances which are placed symmetrically on the left and right sides of the building.
4.2 social: The architect, Phra Saroj Rattananimman (Saroj Sukkayang), of this building played an important role in architectural professional. He was an architect of the Fine Arts Department and also a professor of the Architecture Department, Faculty of Engineering, Chulalongkorn University.
4.3 cultural & aesthetic: There is a single corridor at the front elevation both on 1st and 2nd floors. The front entrance is covered by a cantilevered concrete canopy. In addition, windows of building elevations are vertically aligned creating unique patterns.
4.4 historical: Chemistry Building 1, Department of Sciences had been used since it was built in 1937. Since 1948 the department developed and many new buildings were constructed, Chemistry Building 1 had gradually decreased the uses and eventually abandoned. The building was renovated and reopened in 2011 as Building of Arts and Culture.
4.5 general assessment: Chulalongkorn University administrators evaluated the Chemistry Building 1 and found that this building is a valuable property and can be adapted to meet the present requirements of new arts and cultural place.
5. Documentation
5.1 principal references: Parinya Chukaew and Architectural Heritage in Thailand II
5.2 visual material attached: Parinya Chukaew and Architectural Heritage in Thailand II
5.3 rapporteur/ date: June 2014
6. Fiche report examination by ISC/R
name of examining ISC member:
date of examination:
approval:
working party/ref. n° :
NAi ref. n°:
comments: