Group Building no.24
Indra Regent Hotel
depicted item: Indra Regent Hotel in the past and its motif fin shades
source: the book of 'Keeping Up: Modern Thai Architecture 1967-1987 Exhibition' on 12 June-14 September 2008
date: 2008
1. Identity of building/ group of buildings/ urban scheme/ landscape/ garden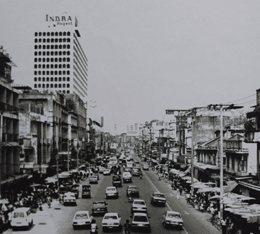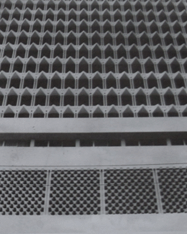 1.1 current name of building: Indra Regent Hotel
1.2 variant or former name: Indra Hotel Complex
1.3 number & name of street: 120/126 Rajaprarop Rd., Pratunam
1.4 town: -
1.5 province/state: Bangkok
1.6 zip code: 10400
1.7 country: Thailand
1.8 national grid reference:
1.9 classification/ typology: RES and REC
1.10 protection status & date: owned by Basoma Co., Ltd. and affiliated with Gardengrove Suites
2. History of building
2.1 original brief/ purpose: RES and REC
2.2 date completion: 1970
2.3 architectural and other designers: Colonel Chira Silpakanok
2.4 others associated with building: -
2.5 significant alterations with dates: From 2000 to 2003, the hotel was renovated and shopping arcade in the following year.
2.6 current use: hotel and shopping arcade
2.7 current condition: good
3. Description
3.1 general description: Indra Hotel Complex was established by Mom Rajawongse Kukrit Pramoj, Piti Poonsangsathit, and other international stakeholders from Hong Kong and Malaysia. The hotel cooperated with the five-star hotel chain, the Regent Hotels, one year after its opening. However, two international stakeholders withdrew from the business in 1975. This was the turning point of the Indra Regent Hotel. Consequently, the Regent Hotels invested in other hotel in the area nearby. Therefore, the Indra Regent Hotel terminated the contract with the Regent Hotels but has remained the Regent in its name with the permission from the Regent Hotels.
3.2 construction: reinforced concrete structure with concrete fin shades
3.3 context: The complex located on Rajaprarop Rd., Pratunam, was the new bus depot during the late 1960s and 70s.
4. Evaluation
4.1 technical: Chira Silpakanok designed the layout of the shopping arcade, cinema, and hotel rooms and facilities, according to contemporary Western models in order to maximize its commercial potential. A walkway connected the hotel to the arcade, allowing access 24 hours a day.
4.2 social: A real estate project of developer Lenglert Baiyoke's, the Indra Hotel offered shopping, eating, and the movies all under one roof-Western-inspired lifestyle options which were slightly out of spending reach of most city inhabitants at the time. Instead, the five-star hotel was a new choice for foreign investors and tourists, and a dining entertainment venue for local elites.
4.3 cultural & aesthetic: The stylish fin shades, inspired by traditional Prajamyam motifs. The use of shades shows the consideration of environmental design.
4.4 historical: The IndraHotel complex in Pratunam was Bangkok's first integrated commercial leisure center in 1970.
4.5 general assessment: Indra Regent Hotel has been located on Rajaprarop Rd., Pratunam, the high density of commercial areas of Bangkok. It created new urban lifestyle for the society. This place not only holds the social value, but it also exhibits the consideration of environment by using the fin shades on building fašades.
5. Documentation
5.1 principal references: the book of 'Keeping Up: Modern Thai Architecture 1967-1987 Exhibition' on 12 June-14 September 2008
5.2 visual material attached: the book of 'Keeping Up: Modern Thai Architecture 1967-1987 Exhibition' on 12 June-14 September 2008
5.3 rapporteur/ date: June 2014
6. Fiche report examination by ISC/R
name of examining ISC member:
date of examination:
approval:
working party/ref. n░ :
NAi ref. n░:
comments: