Group Building no.21
the Royal Thai Army's cinema
depicted item: perspective of the Royal Thai Army's cinema
source: Parinya Chukaew
date: 2014
1. Identity of building/ group of buildings/ urban scheme/ landscape/ garden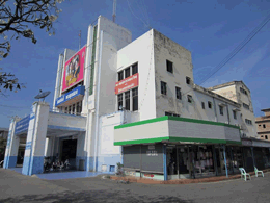 1.2 current name of building: the Royal Thai Army's cinema
1.3 variant or former name: the Royal Thai Army's cinema
1.4 number & name of street: northeast axis of Sri Suriyothai circle
1.5 town: Muang
1.6 province/state: Lopburi
1.7 zip code: 15000
1.8 country: Thailand
1.9 national grid reference:
1.10 classification/ typology: COM
1.11 protection status & date: owned by Crown Property Bureau Foundation and rented by security company
2. History of building
2.1 original brief/ purpose: REC
2.2 date completion: 1939
2.3 architectural and other designers: unknown
2.4 others associated with building: Sri Suriyothai circle
2.5 significant alterations with dates: The audience's seats at the lower level were removed. The back elevation was partly demolished while there were some additional works on side elevation.
2.6 current use: security guard company
2.7 current condition: lack of proper conservation
3. Description
3.1 general description: The Field Marshal Plaek Pibul Songkram's government of Thailand constructed the building as a leisure facility in Lopburi during the World War II which can be used as a conference hall if the government has to move the capital city from Bangkok to Lopburi due to air bombings.
3.2 construction: reinforced concrete structure and masonry painted walls
3.3 context: This Royal Thai Army's cinema is situated as one of Lopburi new town planning elements.
4. Evaluation
4.1 technical: The Royal Thai Army's cinema was 800 seats both on slope level and concrete structural mezzanine. It has a symmetrical design on the front fašade.
4.2 social: It was the second cinema which showed sound-on-film movie in Thailand after Sala Chaloem Krung.
4.3 cultural & aesthetic: It is simple decoration of Art Deco style. Windows are vertically aligned especially the two continuing glass panels can create elegant look of the cinema's main entrance.
4.4 historical: The location of the cinema related to the town planning of the city which was planned in 1937.
4.5 general assessment: The Royal Thai Army's cinema in Lopburi was as high quality as Sala Chaloem Krung in Bangkok because both cinemas installed automatic screen curtains and air conditioning with chilled water systems.
5. Documentation
5.1 principal references: Parinya Chukaew and Waeovichian Abhichartvorapan
5.2 visual material attached: Parinya Chukaew
5.3 rapporteur/ date: June 2014
6. Fiche report examination by ISC/R
name of examining ISC member:
date of examination:
approval:
working party/ref. n░ :
NAi ref. n░:
comments: