Group of building no.4
Agricultural Machinery Engineering Department, Faculty of Engineering and Architecture, Rajamangala University of Technology Isan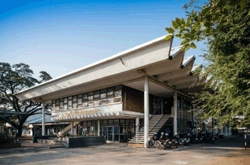 depicted item: Building No.6, Agricultural Machinery Engineering Department, Faculty of Engineering and Architecture, Rajamangala University of Technology Isan
source: Architectural Heritage in Thailand II and Narathip Thubthun
date: July 2010
1. Identity of building/ group of buildings/ urban scheme/ landscape/ garden
1.1 current name of building: Building No.6, Agricultural Machinery Engineering Department, Faculty of Engineering and Architecture, Rajamangala University of Technology Isan
1.2 variant or former name: Building No.6, Agricultural Machinery Department, Northeastern Technical College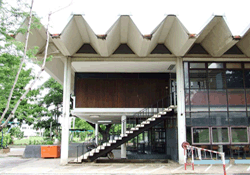 1.3 number & name of street: 744 Surannarai Rd.
1.4 town: Muang
1.5 province/state: Nakhon Ratchasima
1.6 zip code: 30000
1.7 country: Thailand
1.8 national grid reference:
1.9 classification/ typology: EDC
1.10 protection status & date: managed by Rajamangala University of Technology Isan, Nakhon Ratchasima and received the Architectural Conservation Awards 2014 from the Association of Siamese Architects Under Royal Patronage
2. History of building
2.1 original brief/ purpose: EDC
2.2 date: commission/ completion: 1962
2.3 architectural and other designers: Jittasen Rattanapahu (architect and engineer)
2.4 others associated with building: -
2.5 significant alterations with dates: -
2.6 current use: department's lecture and workshop
2.7 current condition: good with routine maintenance and use
3. Description
3.1 general description: During the management of Dr. Wathanyu Na Thalang, the 1st chancellor of Northeastern Technical College, later Rajamangala University of Technology Isan, many buildings were constructed from 1957 to 1967. At that time, there were shortages of skilled labour and construction machinery in Thai construction market, the college's curricula focused particular on resolving these issues. Accordingly, the design concepts of maximizing building utility and minimizing the construction cost were taught in architecture and engineering curricula in parallel with the nature of Modern architecture. The main mission of the department is to produce technical expertise of agricultural machinery engineering.
3.2 construction: reinforced concrete and concrete folded plate roof
3.3 context: in the university campus in the northeastern region of Thailand
4. Evaluation
4.1 technical: Building No.6 is 2-storey concrete building with rectangular layout. The building uses various types of Modern character materials to demonstrate their construction techniques for example concrete pillars, wooden walls, glazing panels and steel handrails. The building is divided into two parts, front and back parts. The front part has two stroeys, lecture rooms on the 1st floor and office space on 2sn floor. While there is a double-height workshop space at the rear of the building. Consequently, these layouts create good ventilation through both front and rear parts.
4.2 social: In order to master students skills, students took part in the construction process of the building. So students from generations to generations have been proud of this building.
4.3 cultural & aesthetic: Concrete folded plate roof, the significant building element, makes the building remarkably. Cantilever construction of roof also presents the weightless quality of Modern architectural characteristics. These elements are reflected the concept of tropical architecture in Thailand.
4.4 historical: Building No.6, Agricultural Machinery Engineering Department was completed the construction in 1962 and officially opened in the following year.
4.5 general assessment: Building No.6, Agricultural Machinery Engineering Department, well planned building has performed its original functions and can serve the current needs. The building was contemporary with the establishment of the college so it is regarded as one of the college historic buildings.
5. Documentation
5.1 principal references: Narathip Thubthun and Waeovichian Abhichartvorapan
5.2 visual material attached: Architectural Heritage in Thailand II and Narathip Thubthun
5.3 rapporteur/ date: June 2014
6. Fiche report examination by ISC/R
name of examining ISC member:
date of examination:
approval:
working party/ref. n° :
NAi ref. n°:
comments: