Group Building no.14
Prasanmit Building, Srinakharinwirot University (Prasanmit Campus)
depicted item: exterior and interior of Prasanmit Building, Srinakharinwirot University (Prasanmit Campus)
source: Parinya Chukaew and Architectural Heritage in Thailand II
date: 2014
1. Identity of building/ group of buildings/ urban scheme/ landscape/ garden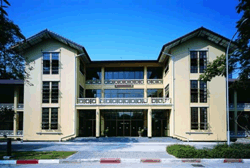 1.1 current name of building: Prasanmit Building, Srinakharinwirot University (Prasanmit Campus)
1.2 variant or former name: Building No.3 Srinakharinwirot University (Prasanmit Campus)
1.3 number & name of street: Srinakharinwirot University 114 Sukhumvit 23 Rd., Khlong Toei Nuea
1.4 town: Vadhana
1.5 province/state: Bangkok
1.6 zip code: 10110
1.7 country: Thailand
1.8 national grid reference:
1.9 classification/ typology: EDC
1.10 protection status & date: owned by Srinakharinwirot University (Prasanmit Campus) and received the Architectural Conservation Awards 2007 from the Association of Siamese Architects Under Royal Patronage
2. History of building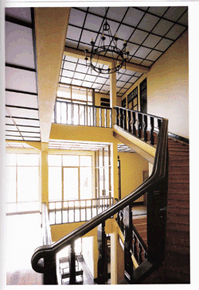 2.1 original brief/ purpose: EDC
2.2 date completion: 1950
2.3 architectural and other designers: Phian Sombatpiam
2.4 others associated with building: Srinakharinwirot University Prasanmit Demonstration School secondary and elementary departments
2.5 significant alterations with dates: The building has undergone 4 times of renovations. The first was general repairs during 1983-1987. The second time was a rehabilitation of room no.314 as a temporary exhibition room in 1998 and the third time during the same year was to renovate the building to be Srinakharinwirot University Archives. Eventually the fourth time was a major conservation carried out during 2005-2006 and the building has been renamed 'Prasanmit Building'.
2.6 current uses: archive, office, art and cultural center of the university
2.7 current condition: good
3. Description
3.1 general description: Srinakharinwirot University was derived from the Higher Teachers' Training School in 1949 and changed to the Education College in 1954. Until 1974, the college was developed the university. Prasanmit Building or Building No.3 of Srinakharinwirot University (Prasanmit Campus) was constructed in 1950 by an approval of Professor Mom Luang Pin Malakul during his time as the Permanent Secretary of the Ministry of Education. The construction was carried out by Somsamai Furniture Co., Ltd.
3.2 construction: reinforced concrete structure with hipped and gabled roofs
3.3 context: Srinakharinwirot University (Prasanmit Campus) is a complex educational institutes which consists of the university, and elementary and secondary schools.
4. Evaluation
4.1 technical: Prasanmit Building is a reinforced concrete building with 3-storey central core flanked by 2-storey wings. The central core is 19 meters wide; each wing is 10 meters wide. The total area is 1,233 square meters. The building has hipped roofs over the wings and gabled central core, both are covered by Roman tiles.
4.2 social: Prasanmit Building has always been the vital identity of the Srinakharinwirot University members.
4.3 cultural & aesthetic: Decorative elements are cement balustrades casted geometric design. The corridor floors are terrazzo while room floors are paved by wooden tiles.
4.4 historical: Foundation stone laying ceremony was held on 18th August 1950 and Phraya Saraphaiphiphat (Luean Saraphaiphiphat), Ministry of Education presided our the ceremony. It was officially opened and served as the first lecture building of the Higher Teachers' Training School in 1952 and used as the Indiana University staffs' office. It also was an administration office of Professor Dr. Sarot Buasi, Director of the Higher Teachers' Training School and Rector of Education College in 1953.
4.5 general assessment: At present, Prasanmit Building functioned as Srinakharinwirot University Archives, Culture and Art Institution, and offices of the Rector, Vice-Rector, Strategic President, and Welfare Section. Due to the well-managed conservation and proper utilization, Prasanmit Building has existed notably as a representative of modern architecture in Thailand.
5. Documentation
5.1 principal references: Parinya Chukaew and Architectural Heritage in Thailand II
5.2 visual material attached: Parinya Chukaew and Architectural Heritage in Thailand II
5.3 rapporteur/ date: June 2014
6. Fiche report examination by ISC/R
name of examining ISC member:
date of examination:
approval:
working party/ref. n° :
NAi ref. n°:
comments:
Explanation of selection
This represents modern architecture with a dignified simplicity.